Last Updated on January 27, 2023 by admin
Article Written by Kelly Walden
Any city that calls itself Cowtown had better deliver on the beef, and Kansas City does. We'll help you find the best burger in Kansas City! As far as hamburgers, cheeseburgers, steakburgers, BBQ burgers, and any other prefix to the burger you can think of, it's being done well somewhere in Kansas City. Or well-done, if you must.
Top Five Burger Joints in Kansas City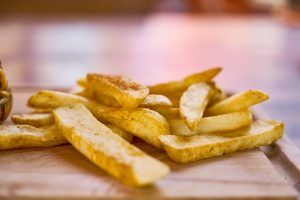 Choosing a favorite burger in KC is going to be a personal endeavor. I can give you the tools to seek what you find, but I can't choose for you. For that, we each must go alone.
Without further ado, my favorite hamburgers in Kansas City, in no particular order.
---
#1 – Tay's Burger Shack
11019 Armour Rd, North Kansas City, MO 64116 | Tay'sBurgerShack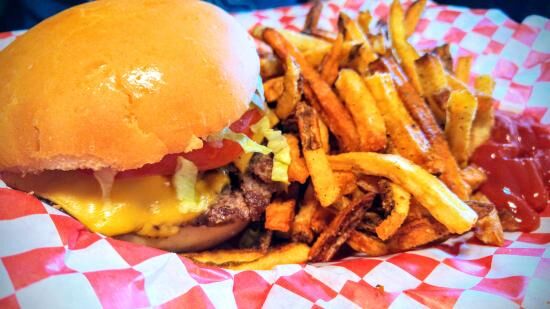 Just north of the river, situated on Armour Road, Tay's Burger Shack is a little place. Tay's sells delicious burgers and crispy fries, all made fresh daily from local ingredients. They source organic, local beef, make their buns in-house each day, and serve them with special Sriracha ketchup, also made in-house.
For big appetites, they serve something called a "Home Run" burger – four patties, bacon, cheese, pickles, lettuce, and tomato. Holy cow!
Tay's is a small place and doesn't have a liquor license, but they allow you to BYOB – sealed, packaged liquor, beer, and wine are fine to bring to drink yourself.
I'd order A double with bacon, a large Coke, and an order of chili-cheese fries.
---
#2 – Westport Flea Market
817 Westport Rd, Kansas City, MO 64111| WestportFleaMarket.com

This place is a Kansas City staple. On the westside of Westport, open seven days a week, "The Flea" is a regular winner of all things burger-related in KC. Their burgers are fat, juicy, made to order, and you add all the fixings yourself at their "Topping Bar."
The restaurant is 30+ years old and has been serving tasty burgers to Kansas Citians the entire time. They currently source all their beef from another long-time KC establishment, McGonigle's Market.
If you're feeling feisty, try the Super Flea 5-Patty Food Challenge – don't get your hopes up though, in thirty-plus years, no one has ever been able to finish this monstrous burger with a heaping plateful of fries to win the challenge.
Really, no one has ever done it. But maybe you'll be first. An easy choice for our list of the Best Burger in Kansas City!
It's a cash-only establishment, so come prepared. They have Happy Hour deals, pool tables, shuffleboards, and regular trivia nights – something for everyone!
I'd order: A burger, embarrass myself at the Topping Bar, then maybe some nachos for the table.
---
#3 – Helen's JAD
2002 Armour Rd, North Kansas City, MO 64116 | http://helensJAD.com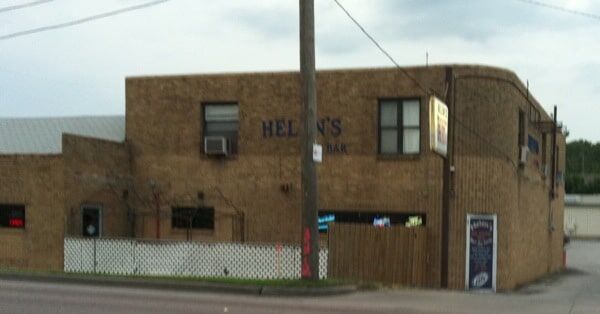 For those among us who love dive bars, Kansas City delivers once again with Helen's Just A Dive. The Happy Hour specials, wings, and patio and just a bonus to what we are talking about here – The Northlander Burger.
Named after its neighborhood, the Northlander is ½ lb of char-broiled beef with cheese, chopped onions, bacon, and a house-made Green Olive Aoili. The fries that come with it are crispy and well-seasoned, and the entire experience is just delightful. An easy choice for our list of the Best Burger in Kansas City!
What's not on the menu: a classy ambiance. Like it says right in the name, it's Just A Dive. Set your expectations accordingly.
I'd order The Northlander Burger. Or the Blue Cheese Burger. Or a Smokehouse Burger.
---
#4 – Westside Local
1663 Summit St, Kansas City, MO 64108 | thewestsidelocal.com

Now let's talk about a place where ambiance IS on the menu – The Westside Local. The Westside Local has been a KC establishment for the better part of a decade. It's easy to see why – the cozy restaurant embodies the laid-back, confident qualities that Kansas Citians seem to crave. An easy choice for our list of the Best Burger in Kansas City!
The Summit Burger is a popular choice here – my particular favorite things about it are the mild swiss cheese and the Farm-to-Market brioche bun. Like the name indicates, they source everything locally as much as possible, making for a high-quality and fresh-tasting burger.
I'd Order The Summit Burger and a selection of oddball beers.
---
#5 – Town Topic
2021 Broadway Kansas City | TownTopic.com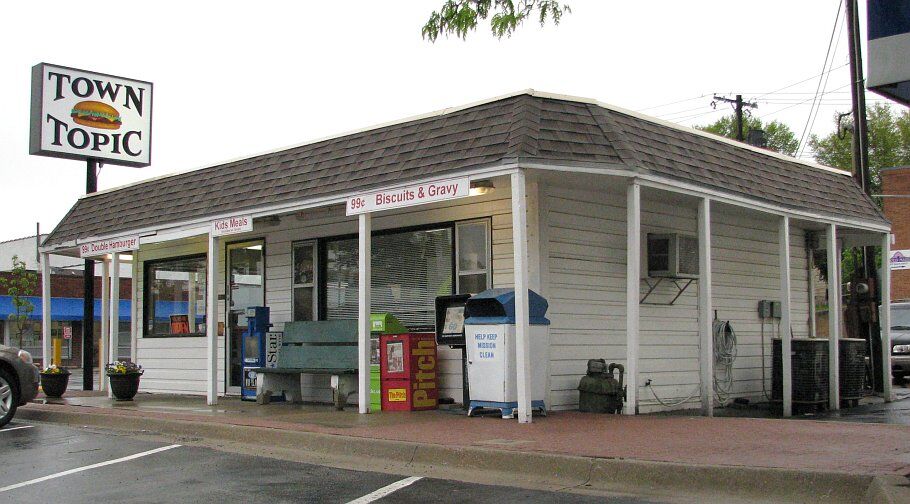 You can't talk about hamburgers in Kansas City without mentioning Town Topic. I love a greasy, diner-style Smashburger, and Town Topic is my favorite when I'm in that mood. A classic order-at-the-counter experience has old-fashioned burgers you can top just the way you like, paired with crispy fries, tots, or rings. An easy choice for our list of the Best Burger in Kansas City!
I think all Kansas Citians should go to Town Topic to touch a piece of our history. The original location has been standing for 75 years and is one of our original "greasy spoons." The old-diner feel is a little slice of Americana for those who enjoy that kind of thing. It's also open 24 hours a day, 7 days a week!
I'd order A burger, tots, and an old-fashioned root beer float.
---
Bonus – Q39
1000 W 39th St, Kansas City, MO 64111| www.Q39KC.com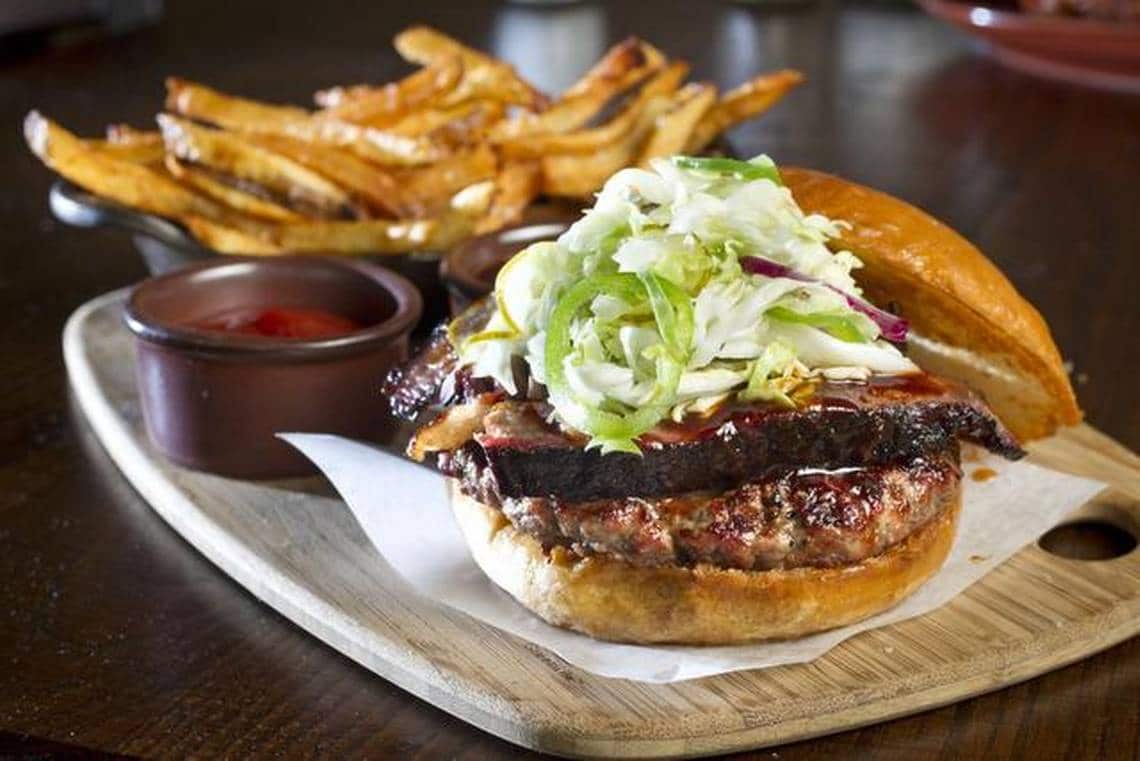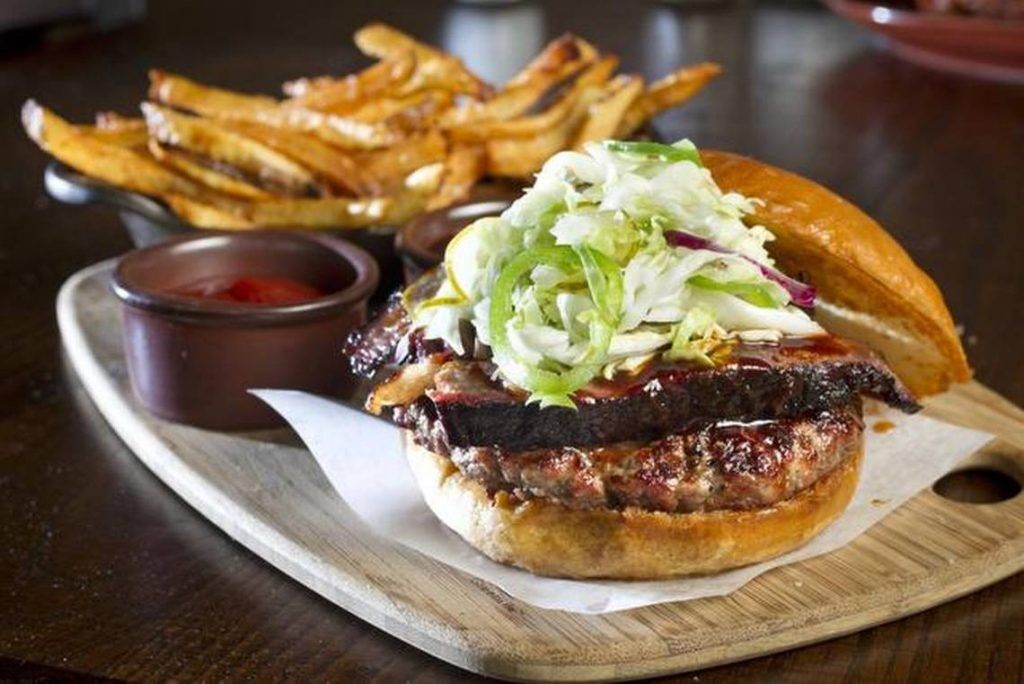 It didn't feel fair to end the list without finding the most notable BBQ Burger, a long-standing Kansas City staple. That honor goes to Q39 for their Burnt End burger. Sliced burnt ends with Q39s traditional, spicy pickle slaw and a classic KC barbecue sauce make this a smokey, tasty treat for any barbecue or burger lover. An easy choice for our list of the Best Burger in Kansas City!
I'd order A Burnt End Burger, Apple Coleslaw, and a big plate of crispy fries.
---
Best Burger in Kansas City – History
It's no surprise that the hamburger's inspiration was born in Hamburg, Germany – a local dish of beef minced with onions, garlic, and pepper. The sandwich as we know it, though, is pure Americana.
In the 19th century, German immigrants brought this style of beef, known as the Hamburg Steak. These steaks were often gourmet and pricey, and as such was designated mainly food for red-bloods who could afford the imported beef.
During the industrial revolution, a popular choice for German immigrants was to open and manage a food cart, often offering an Americanized version of the Hamburger Steak.
Some enterprising up-start, whose name has sadly been lost to history, took note of the trouble workers were having to try to eat the steaks while standing. He sandwiched the steak between two pieces of bread, and the rest is history.
Today, hamburgers have been loved the world over and are found integrated into many cultures. Kansas City's meat-loving populace has a taste for beef and access to a plethora of fresh meat and vegetables, making it a great city for burger lovers. Read above and decide which is the best burger in Kansas City.
Also, Check out our post about the best coffee shops in Kansas City!